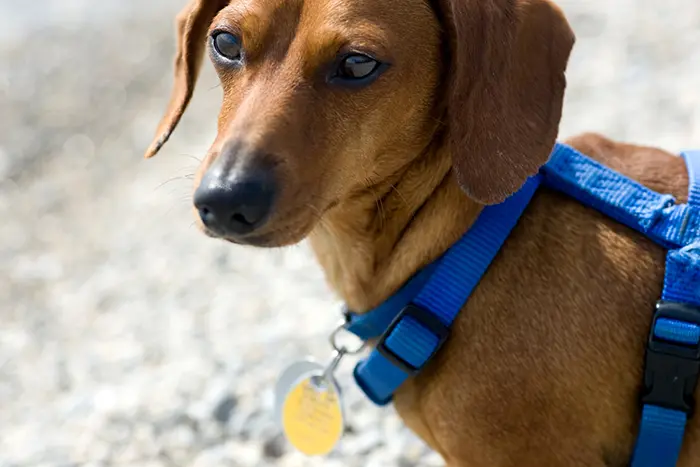 Best Dog Harness For Dachshunds
Updated By Ava Jaine
Dachshunds have long backs, short legs, and a puffy chest, so it can be tough to choose the right dog harness for their unique shape.  No worries, we can help you find the right harness that will fit your dachshund perfectly.
After a good amount of research, I was able to find the best dog harness for Dachshunds! The Puppia Soft Dog Harness B is my number one choice.  This harness is really affordable and easy to put on my Dachshund, Eko.  It is made of super soft and stretchy material and can be cleaned in the washing machine.

This article contains Affiliate Links. Please review our Disclaimer for details.
Dog Harness Vs. Dog Collar: Which is Best?
Dog Harness wins hands down, especially for your Dachshund!  A dog body harness is designed to reduce any strain on your dog's neck and it redistributes pull pressure across their body.
Dachshunds are prone to a spinal disease called IVDD.  Using a body harness for your Dachshund can greatly reduce the strain on their neck and back, which helps reduce the risk of spinal issues.
Why Switch to a Dog Body Harness:
While hiking with my two doxies, Reno and Bastian, I noticed that Bastian tended to pull so much that his neck collar would make him cough and hack out loud. He loves to walk, so he literally helps pull me up the big hills during the hike.  Reno was a little slower on the hike, so he didn't have as many issues with pulling unless he darted after a squirrel or rabbit.
So, I decided to try a dog body harness for both of my doxies.  It really was the best solution for us!  Bastian no longer hacks and coughs on the walks and I feel better about using a harness to protect their necks and long backs.
What is the Best Harness for a Dog That Pulls?
The best dog body harness for a dog that pulls is the Comfort Fit Metric USA from Amazon.  It is made out of comfortable, lightweight, breathable, and washable material.  This no pull harness encompasses and hugs you dog's body while making him feel comfortable.
Dachshund Harness Features:
1. Type of Body Harness:
No Pull Harness: This type of harness will tighten slightly when your dog pulls on the leash. The pull is felt under the dog's arms and chest instead of around his neck, unlike regular dog collars.  Pay close attention with this type of harness to make sure it is comfortable and doesn't cause any irritation under the dog's arms.  Look for soft comfortable material to prevent irritation.
Back Support Harness: This type of harness will support a dachshund's back, and is special for IVDD conditions.  It will extend farther down the dog's back and give more back support.  This special harness usually comes with a supportive handle on the back to help lift the whole dog if needed.
2. Proper Fit:
It is important for a Dachshund harness to have a proper and comfortable fit to allow the dog a good range of motion.  To check your Dachshund's size, measure his neck size, the girth around his chest (widest part of his body), and his length from his neck to the top of his tail.
Standard Dachshunds average 8-9 inches tall and can weigh up to 32 pounds.
Miniature Dachshunds are usually around 5-6 inches tall and weigh up to 11-13 pounds.
3. Dog Harness Material:
Mesh Harness: On hot summer days, Mesh is a great material to keep your doxie cool. But, make sure to pick a high quality mesh harnesses because the cheaper mesh isn't as strong as other harness materials.
Nylon Harness: This type of material tends to be less expensive than most. They are easy to clean and come in many bright colors.  They tend to be a little more durable than the mesh material.
Fabric Harness: There are so many cute fabric dog harness designs available. They tend to be pretty easy to clean.  Their main purpose though is to dress up your doxie, not necessarily to be an active harness for daily walks or hiking trails.
Leather Harnesses: A nice quality leather harness may cost a little more than other harnesses, but they are so much more durable. As long as it is good high-quality leather, it should be a comfortable, long-lasting choice for your Dachshund.
4. Easy On/Off
Putting on your Dachshund's body harness shouldn't have to be a struggle.  When you are ready to go for a nice afternoon walk, it should be easy to get out the door.  A dog body harness that slips on without having to hold them down or flip them over to get buckles clipped should be a given.
#1 Best Harness for Dachshunds:
The Puppia Dog harness is made of mesh/polyester material for extra comfort.  The soft mesh design is durable and easy to clean.  It is great for those hot summer days or those muddy winter walks.  It is super easy to put on your dog, so no more wrestling with your dog to go for a walk.  It is choke free and is made with soft and breathable material to prevent irritation of your dog's underarm skin.
Eko loves wearing his Puppia Soft Harness (picture below).  He is 6 months old in this picture (about 9 lbs), and wears a Medium size, which fits him perfectly.
| Ranking | Harness | Image |
| --- | --- | --- |
| #1 | Puppia Soft Dog Harness B | |
| #2 | ChokeFree Velpro Harness | |
| #3 | Comfort Fit Metric USA | |
| #4 | Ruffwear Front Harness | |
The Choke Free Velpro Dog Harness is made of cooling mesh material. This is a one piece, non-choking dog body harness that has a special Vel-lock closure. It comes in many colors and sizes that will fit dogs who measure 11 inches up to 20 inches around the chest. They recommend measuring the dog's chest just behind the front legs and going up an inch to allow for maximum comfort.
The material is lightweight, soft, machine washable, and easy to put on (YEAH!).  Its main support is around the dog's chest, so, no more choking. This is a great choice for Dachshunds!
This no pull harness is EASY to put on and take off small dogs, like Dachshunds.  It is made with special "Metric 66" material that provides a comfortable hugging effect to the dog and will reduce the stress and tension when you take your dog for a walk.  The special padding decreases the strain on the lower neck and throat caused by pulling.  This harness is washable, breathable, and lightweight.
4. Ruffwear Front Range All Day Adventure Harness for Dogs
This dog harness is tough and super unique.  It is specially made for Dogs that are Strong Pullers!  It is built for those more rugged walks and hikes in the wilderness.  It has a front leash attachment that encourages dogs to keep up the pace with their owners.  It is designed to redirect dogs that are pullers and keeps them facing forward.  This harness is lightweight, durable, and designed for easy on and off.  Super padded for lots of comfort and includes reflective trim to help your dog stand out day or night.  It also comes with a cute ID pouch for safe storage of your dog's id tags.
More Good Quality Dachshund Harnesses:
| Ranking | Harness | Image |
| --- | --- | --- |
| #5 | Embark Adventure Harness | |
| #6 | EcoBark Max Control Harness | |
| #7 | EzyDog Harness | |
| #8 | Muttitude Dog Harness | |
5.  Embark Adventure Dog Harness
The Embark Adventure harness is EASY to put on and take off of your Dachshund.  Note:  It does not fit extra small dogs under 10 pounds.  This is a No-pull dog harness that is durable, flexible, and comfortable for your Dachshund.  It is made of no-rip nylon and anti-chafe padding.
The Embark also has compatible seat belt attachments.  It has a no pull front lead leash attachment point that is very strong.  This allows your dog to learn how to stop pulling and heel during your daily walks.  This harness is compatible for smaller breeds: Beagle, French Bulldog, Yorkshire, Boston Terrier, Dachshund, Miniature Schnauzer, Cocker & King Charles Spaniel, Pug.
Small Size: Stomach 16 – 24" inches | Base of Neck: 16 – 24" inches
Medium – Stomach 24 – 31" | Base of Neck: 17 – 25"
Large – Stomach 31 – 43"| Base of Neck – 18 – 26"
XL – Stomach 43 – 47" | Base of Neck – 19 – 32"
6.  EcoBark Max Comfort and Control Dog Harness
The EcoBark Harness is a No choke and No Pull Harness.  EcoBark's Best Selling Eco-Friendly Harness, made from ROSH Tested, not toxic mesh and nature-friendly straps created from recycled water bottles.
Ultra Soft, Highly Durable, and Eco-Friendly.
Innovative No-Choke design protects your dog's fragile trachea and throat with extra plush piping around the neck opening.
It is great for walking, running and hiking. The harness will hug the dog with a Flexible Air-Mesh which Maintains your Dog's Natural Movements.
The Harness Hug Measurements:
X-Small: 4 to 6 lbs Base of Neck- 7.5 in Chest Girth: 9-13 inches
Small: 6 to 10 pounds Base of Neck- 9.8 in Chest Girth: 12-18 inches
Medium: 10 to 17 lbs Base of Neck- 12.5 in Chest Girth: 14-21 inches
Large: 18 to 27 lbs Base of Neck- 14 in Chest Girth:19-29
XL 28 to 47 lbs
XXL: 48 to 65 lbs
7.  EzyDog Chest Plate Custom Fit Dog Harness
This harness is your more Basic but durable design.  The EzyDog dog harness has an ergonomic EVA foam chest plate for extra comfort.  Easy on and off, comfortable, washable, and durable.  It has reflective stitching throughout the harness design. Based on your dog's GIRTH measurement. If you are close to the end of a size, bump up to the next size: girth (Inches):
XS 12"-19"
SM 15"-24"
MD 18"-29"
LG 19"-33"
The Muttitude Dog Harness is crafted with breathable, and form-fitting comfort.  These body harnesses are more gentle than standard collars.  They are made with Inner mesh padded material lining.  This harness has soft edges and is machine washable. (not intended for dogs over 20 pounds)
Available Sizes (Chest Girth):
Small: 11.5" 4-6 lb Puppies, Teacup breeds, Chihuahua
Medium: 12" 6-8 lb Maltese, Yorkie
Large: 14.5" 9-14 lb Shi-Tzu, Mini Poodle, Rat Terrier
X-Large: 17" 12-18 lb Boston Terrier, Miniature Schnauzer, Dachshund, Other small breeds
Best Dual-Dog Leash:
Ok, now that you have picked out the perfect no pull dog harness, what about a new leash?
Well, if you are like me and have multiple dogs.. you know that walking them at the same time can be a super pain. They are constantly twisting around each other and your legs of course.
You need to check out my favorite dual dog leash from Amazon.  The iYoShop Dual Dog Leash is a double dog leash designed to make it much more convenient to walk two dogs at the same time.  It helps stop the tangling and twisting! It is simply awesome in my opinion. It is any dog walker's dream leash.
Here is my YouTube Demo Video using the Dual Dog Leash.
Other Dog Harness Sites:
Here are some more great options for Dachshund Harnesses. Some are even custom made.
What dog harness do you use for your Dachshund?  Please Let me know in the Comments.